The Guardian
(UK)
Saeed Kamali Dehghan
July 5, 2013.
Cleric marks inauguration with speech on transparency, equal rights for women and need for dialogue rather than sanctions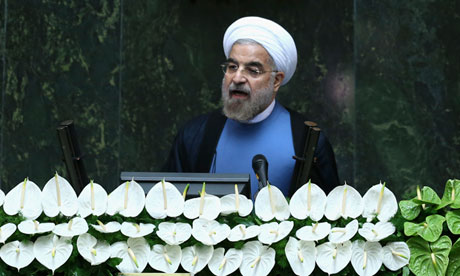 President Hassan Rouhani tells the west: 'If you want the right
response, don't speak with Iran in the language of
sanctions, speak in the language of respect.'
(Photograph: Ebrahim Noroozi/AP)
Hassan Rouhani has been officially sworn in as Iran's new president, promising moderation and transparency but also urging those who want the "right response" from his country to "use the language of respect" instead of sanctions.

In an inauguration ceremony held at the Iranian parliament in Tehran on Sunday, the 64-year-old cleric kissed the Qur'an and took the oath of office before senior politicians, foreign dignitaries and MPs, promising to serve his people, protect individual rights and defend his country.

Rouhani, Iran's seventh president since the 1979 Islamic revolution, formally began his four-year mandate on Saturday when Iran's supreme leader, Ayatollah Ali Khamenei, in a separate ceremony, endorsed his sensational victory in June's presidential election.

During Sunday's swearing-in ceremony, Rouhani delivered a speech in the Majlis (the parliament) in which he said "people have voted for moderation" and that his "government of hope and prudence" would work to fight poverty, corruption and discrimination.

"People want change," said the new president, who described himself as the representative of all Iranian people and not only those who voted for him in the election. "People want to live better, to have dignity as well as a stable life. They also want to recapture their deserving position among nations," he said.

He also pledged to promote women's rights and advance equality for women in society, despite proposing a cabinet of all men. Rouhani said Iranians sought "peace" and "stability" in their region and across the world and said Tehran was against "foreign intervention" in any country. "The only way for interaction with Iran is dialogue on an equal footing, confidence-building and mutual respect as well as reducing antagonism and aggression," Rouhani said. "Transparency is the key to creating trust but it can not be one-sided."
Read the rest
here
.
*****
Comment:
This is a hopeful time and I like the tone that President Rouhani is setting.
But, how long do you think until Israel raises its usual 'terrorist-in-Iran' alert and the US follows to make unreasonable demands on Iran and its people?
Israel, like the US, cannot exist without an enemy.
I am literally counting the minutes until Israel condemns President Rouhani for being the head of a terrorist state.
Onward!