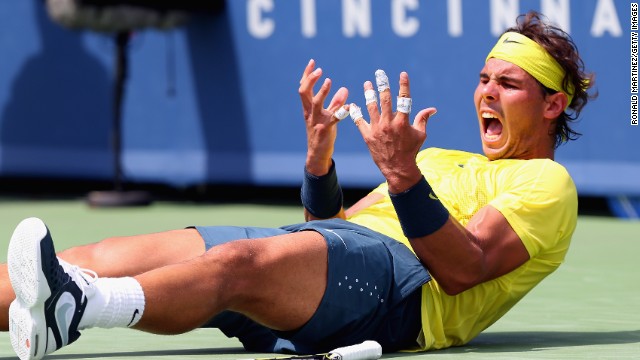 Rafael Nadal wins the Cincinnati title for the first time
and regains the number 2 world ATP ranking.
(
See
Story and Picture Credit: CNN)
*****
Comment: Watching Nadal obliterate the top order on hard courts this year has been nothing short of phenomenal.
I am a big fan. You know that if you been reading here. But I will confess that somewhere in his return to clay courts earlier this year it seemed to me that Rafa was past his glory days.
I was wrong. Very wrong.
Not only did he win the French and retain the "King of Clay" title but he is also undefeated on hard courts this year!
Who would have thunk that just 9 months ago? Who would have thunk it after his early exit from Wimbledon?
Certainly not me. The young man keeps rewriting the record books.
If his knees stay healthy I think it is just a matter of time that he regains the number one spot.
But even if he does not get back to number one few can deny that he is perhaps, next to Roger Federer, the greatest tennis player to grace the game.
I am even a bigger fan now.
Onward!