The allegation that Victor Svyatski acts as a svengali to attractive women in the Ukrainian feminist group is depressing news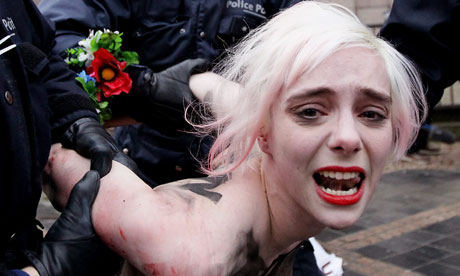 A Femen activist is arrested by Belgian police outside
the EU council headquarters in Brussels.
Photograph: Olivier Hoslet/EPA
In June 2011, it was revealed that Amina Abdallah Araf – the woman behind the A Gay Girl in Damascus blog – did not exist. The person behind it was revealed to be an American student at Edinburgh University, Tom McMaster. The disappointment was palpable; authenticity – on the web, and elsewhere – is a prized attribute, and when it is eroded, people understandably get angry.

Now Australian film-maker Kitty Green has named Victor Svyatski as the wizard behind the curtain of Ukrainian feminist group Femen. Green alleges that Svyatski not only supports the group, as Femen had previously acknowledged, but actually founded the organisation, as well hand-selecting the "prettiest girls" for their topless protests. Love or loathe Femen – and it is no secret that I am no fan of theirs – this is plain depressing.

For the documentary, Ukraine Is Not a Brothel, which is being shown at the Venice film festival, Green recorded an interview with Svyatski in which he acknowledges he may have started the group to meet women. His reply is a masterclass in how to cop out: "Perhaps yes, somewhere in my deep subconscious."

Did we guess that something might have been going on? The clues were there. Topless protests featuring mostly skinny, "pretty" European women. The slogans: "Our mission is protest, our weapons are bare breasts", "Nudity is liberty" and "Better naked than in a burqa", gave off an unpleasant stench but didn't necessarily point to a male svengali figure in the background.

Women have proven themselves to be just as capable of insensitivity and bullish action: asking for a "topless jihad" could have easily been the idea of a man or woman. And the aggression and ferocity of their protests did not automatically raise red flags – aggression is not the sole preserve of men, and women have a lot to be angry about. (Have a read of the @EverydaySexism Twitter feed if you don't believe me).
Read the rest
here
.
*****
Comment
: This blog called bullsh*t on the Femen phenomenon long before it became known that a man is behind the vacuous strip club politics it represents.
See previous post and links
here
.
Onward!