Donald Mcrae
November 23, 2013
Neil Aggett, a young South African doctor, was the only white anti-apartheid activist to die in detention. More than 30 years later, the fight is on to finally bring his torturers to justice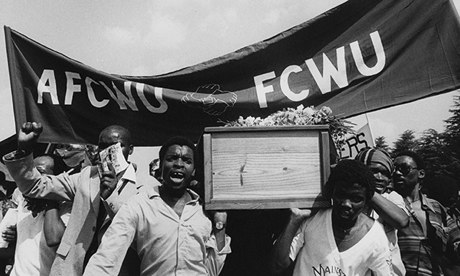 Neil Aggett's funeral in Johannesburg, South Africa, in 1982.
(Photographer: Paul Weinberg/Africa Media Online)
Darkness falls early on a cold afternoon in London as Jill Burger remembers how detention and death in Johannesburg changed her life for ever. The last shadowy strands of daylight seep from a room where she describes how Neil Aggett, her younger brother and a quietly spoken but uncompromising doctor, was detained by the South African security police. Thirty-two years ago this month, on 27 November 1981, Neil and his girlfriend, Liz Floyd, who was also a doctor and an anti-apartheid activist, were seized.

They never saw each other again – but Liz was haunted by the thought that she had heard Neil being tortured in an adjoining office in Johannesburg's notorious John Vorster Square police station. A team of policemen led by Lieutenant Stephan Whitehead and Major Arthur Cronwright regularly covered his head with a wet towel. They tied the towel so tightly that Neil struggled to breathe. He did not know if they planned to suffocate or electrocute him to death – just because he worked as an unpaid organiser for the black trade unions.

The shocks made him scream compulsively as electricity lit up his body in flaring sheets of pain. After 70 days in detention without trial, Neil Aggett was driven to suicide on 5 February 1982. Aged 28, he was the only white South African to die in detention. He became one more icon of the struggle against apartheid – until his name slipped away into obscurity.

Yet the three of us here – Jill, her cousin Beverley Naidoo and me – now feel so full of hope and light that we forget to turn on the lamp in an increasingly murky room. The progress made this week by the Neil Aggett Support Group, sparked into existence by the recent publication of Beverley's biography, Death of an Idealist, is significant. Defying threats to their personal safety and supported by South Africa's most powerful trade unions, the group have announced their readiness to lay a private criminal charge of culpable homicide against Whitehead as Neil's primary torturer. Next Wednesday, on the anniversary of Neil's detention, they will formally lodge their legal action at the Johannesburg Central police station, where Neil died.

The group is also liaising with the Hawks – the Directorate for Priority Crime Investigation – who are re-examining the 6,000 pages of evidence from the 1982 Aggett inquest. Whitehead and Cronwright (whose whereabouts are uncertain) were found to be directly responsible for Aggett's "induced suicide" after the huge body of evidence against them was upheld by the Truth and Reconciliation Commission (TRC) in 1998.

Ignoring the opportunity to admit his culpability and receive amnesty from future prosecution, Whitehead kept on working as a security consultant, even supplying services to the post-apartheid government. He appeared to have become a successful businessman until, last year, South Africa's Mail & Guardian exposed his work. Scrutiny of Whitehead will now intensify, because all those pursuing him believe this case presents "a litmus test" for restorative justice in South Africa.
Read the rest
here
.
*****
Comment
: The past is never just in the past. Old wounds will resurface until the trauma is confronted and the past is brought into a just balance.
The truth about Neil Aggett's death in detention must be made known.
As a related aside I was intrigued by this comment left at the Guardian site:
charlize
All very well for liberals to shed tears over Neil Aggett, but there needs to be more accountability for those who abetted apartheid.
Take the career of the man who worked with apartheid's chief honchos - and helped supply SA's nuclear arsenal to the apartheid state.
Why are Emma Watson and Russel Crowe making movies ('Noah") with this apartheid collaborator, who helped oil the machine that saw the death of Neil Aggett?
Time for all those celebs who collaborate with the deceitful, double-dealing arms dealer Milchan - Angelina Jolie, Bob de Niro, Brad Pitt etc - to distance themselves.... in the same way you'd expect them to distance themselves from working with Nazi collaborators.
More on how Israel's arms money made its way through Hollywood bank accounts... none of these people deserve to stand next to Aggett's grave..
"Arnon Milchan (married to South African tennis star Amanda Coetzer) reveals details about his double life as Israeli arms dealer"
http://www.dailymail.co.uk/news/article-2511965/Arnon-Milchan-reveals-details-double-life-arms-dealer-Israeli-spy.html
Details of Milchan's extensive time in apartheid South Africa - schmoozing with the likes of BOSS head General Hendrik van der Bergh and propaganda czar Dr Eschel Rhoodie - is laid bare in the book "Confidential" written by Doron Meir and Jo Gelman.
Does anyone know anymore details about this? I know who Amanda Coetzer is but this is the first time I have heard of Milchan and his connection to the apartheid state.
Onward!