The Guardian
Conal Urquhart
January 15, 2014.
Georgina Roberts ordered poison online and stored it until ill mother and father chose to use it, inquest told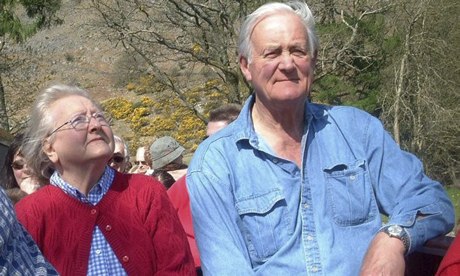 Dr David Arnold and his wife Elizabeth who decided to kill themselves.
(Photograph: Helen Yates/INS News Agency Ltd)
A woman who helped her elderly parents to die told an inquest how she gave them glasses of poison and watched in stunned silence as they died.
Georgina Roberts, 59, ordered the lethal drug over the internet and prepared it for them after her parents had been rejected for assisted suicide in Switzerland and failed at one attempt to kill themselves, an inquest in Newbury, Berkshire heard.
"My actions were motivated entirely by compassion and love for my mother and father," she said. David Arnold, 82, a retired doctor, and his wife Elizabeth, 85, decided to end their lives when he became a bed-ridden amputee and she was diagnosed with dementia and Alzheimer's disease.
The inquest heard that the couple had tried to kill themselves in November 2011, two months after Dr Arnold's amputation, but failed because the painkillers they took were out of date. Relatives knew of the attempt but did not tell the authorities fearing their parents would be split up and put into care homes.
Their daughter explained that, on her father's instructions, she had bought 40mg of the drug on the internet from a Chinese website and stashed it away in the couple's bungalow in Newbury.
Roberts said: "I asked if they were sure today was the day. They said it was but they wanted to watch the Proms on TV first. I got out the [drug] and another drug which would speed up the effects of it.
"I mixed it[the drug] up and put it in a cup on dad's bedside table and I put another cup on the table next to mum who was sitting in her armchair. I said it would be bitter so they should have a chocolate afterwards. Mum drank it very fast. Dad took his and drank it and I gave them a chocolate each.
"Dad then had a whisky and mum had a port, I think. They quickly slipped into a deep sleep. I stood there for 20 minutes in stunned silence watching them. It was surreal."
Assisting in the act of suicide is a criminal offence, but the Crown Prosecution Service decided it was not in the public interest to charge Roberts.
Swiss charity Dignitas had rejected the couple for assisted suicide because of Mrs Arnold's dementia, the inquest heard. Psychiatrist Elizabeth Rice, of Berkshire Healthcare Trust, had assessed Mrs Arnold in November 2011 and February 2012 and told the inquest her patient "did not have capacity and was susceptible to coercion".
Mrs Roberts said her mother had "good and bad days" and was "clear as a bell" on the day she decided to end her life.
Coroner Peter Bedford recorded a narrative verdict and said he had no comment to make on Mrs Arnold's capacity to decide if she wanted to die.
He said: "Mrs Arnold and Dr Arnold had discussed openly and over a period of years their intention to end their lives if they felt their quality of life was deteriorating to a point when it was no longer worth living."
Read the original article
here
.
*****
Comment: I think there is as much a politics to life as there is to dying. The pressing ultimate question in the latter is when is life no longer worth living.
This question filled my consciousness last week and Tuesday when I had to make the decision to take my loyal girl Founder to the vet for the ultimate act of euthanization.
Now I know there are some folks out there who separate human life from what is considered animal life but my thinking has always been that such a decision is not a reality of biology but a construction of social convention.
Founder to me was a family member and I made a decision about ending her life after agonizing days of watching her struggle to breath with swollen glands brought on by lymphatic cancer.
It was not an easy decision. And anyone who has lost an animal companion in this way can attest to the pain of saying the last goodbye.
I spent most of last week working through layers of grief but I got to thinking (again) about death and its constancy.
More specifically, I thought about my dad and his suffering over the last months of his life.
Though my dad would not have advocated taking his life in keeping with his Islamic values, I have been wondering if I would not choose to end my own when the index of suffering is more than the remaining value of life.
It is a tough question that should not be scoffed at or rendered mute by religious or state authority.
The state, in particular, should have no right to criminalize a decision about dying as much as it has no bearing on the decision to live.

Euthanasia - particularly where it relates to the aged who want to end their suffering - requires a more humane reevaluation is my thinking.

In so doing we have to ask ourselves who owns the decision to live and the decision to die.

A few days after Founder's passing a friend told me that she was better off now instead of suffering the inevitable grip of dying slowly and painfully.

I agreed even though my heart was at least partly filled with guilt that I could not do more for her.

But as I thought about that difficult decision I wondered why we as a species cannot do the same when the index of suffering is simply unbearable and dying becomes a long drawn out and painful affair.

Why is it that we can more easily "put down" a sick animal yet cling to human life beyond reason and against the face of chronic suffering.

For most the answer is pretty simple or straightforward. Humans are conceived as divine or spiritual beings and animals are not no matter their value and place in our lives.

What would God say about euthanization?

As I move toward five decades of life it occurs to me that the matters of divinity and spirituality are really interpretive interruptions.

The more important question is what is the humane thing to do.

In the article above the daughter went along with what her parents wanted in the face of grave suffering. In my thinking it was a brave decision and a humane one.

And yet all around the globe other similarly pained individuals who want to end their lives and ease their chronic suffering are rendered criminals by legislative and moral processes that claim a sovereign right over the politics of dying.

I don't think that prolonging the suffering of someone who wants to die is the sovereign right of anyone except the person who suffers despite.

I expect that many would vehemently disagree with me.

My sympathies, however, is toward empowering the chronically ill to decide how to live and when to die.

Onward!