The Guardian
(UK)
May 9, 2014.
Thanks for your concern but calling for America rather than Nigeria to take action does more harm than good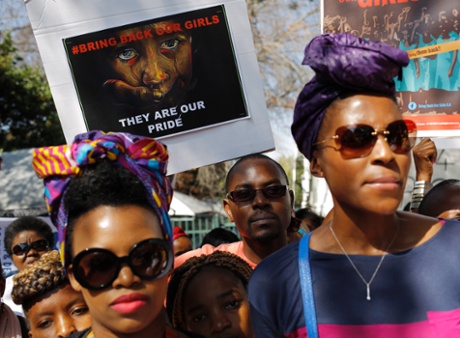 (#BringBackOurGirls protests outside the Nigeria consulate in Johannesburg.
Photograph: Kim Ludbrook/EPA)
Simple question. Are you Nigerian? Do you have constitutional rights accorded to Nigerians to participate in their democratic process? If not, I have news for you. You can't do anything about the girls missing in Nigeria. You can't. Your insistence on urging American power, specifically American military power, to address this issue will ultimately hurt the people of Nigeria.

It heartens me that you've taken up the mantle of spreading "awareness" about the 200+ girls who were abducted from their school in Chibok; it heartens me that you've heard the cries of mothers and fathers who go yet another day without their child. It's nice that you care.

Here's the thing though, when you pressure western powers, particularly the American government, to get involved in African affairs and when you champion military intervention, you become part of a much larger problem. You become a complicit participant in a military expansionist agenda on the continent of Africa. This is not good.

You might not know this, but the United States military loves your hashtags because it gives them legitimacy to encroach and grow their military presence in Africa. Africom (United States Africa Command), the military body that is responsible for overseeing US military operations across Africa, gained much from #KONY2012 and will now gain even more from #BringBackOurGirls.

Last year, before Barack Obama visited several countries in Africa, I wrote about how the US military is expanding its role on the continent. In 2013 alone, Africom carried out a total of 546 "military activities" which is an average of one and half military missions a day. While we don't know much about the purpose of these activities, keep in mind that Africom's mission is to "advance US national security interests".

And advancing they are. According to one report, in 2013, American troops entered and advanced American interests in Niger, Uganda, Ghana, Malawi, Burundi, Mauritania, South Africa, Chad, Togo, Cameroon, São Tomé and Príncipe, Sierra Leone, Guinea, Lesotho, Ethiopia, Tanzania, and South Sudan.
Read the rest
here
.
*****
Comment
: Jumoke Balogun has written what needs to be said and is absolutely spot on though too kind in places.
Word
is that Michelle Obama is going to give a weekly address on the missing girls situation!
Huh?
Based on what agency? Because she is black and a woman?
Please. Give me a break. Where was her concern when her husband and the white folks of Europe and their African stooges were killing innocent women, girls, old folks and men in Libya?
Libya is in Africa, right?
Now after that murderous rampage that killed Gaddafi there are tons of missing innocents. Among them many women and girls.
Where is the concern for these African women and girls?
What absolute hypocrisy. The US and the like-minded are pretending outrage which at its basis is not about concern for missing girls but rather the continuing vendetta against Islam.
Yeah I said it.
If this episode was not tinged by the supposed Islamic fanaticism of fringe elements in Nigeria then Michelle would be demonstrating press-ups to fat American kids instead of lathering us with her supposed concern.
And what of
Jonathan Goodluck
? Enough ass kissing Mr President? Is it not enough that AFRICOM basically operates out of your backyard?
Is this the second, third or fourth colonization?
And where is the African Union? On break?
Some final questions? Where are these missing girls? Who are they? And why can Nigeria not find them without having to draw the imperial massa and his/her henchmen into the fray?
Put faces and add details to this supposed story or it will always remain nothing more than suspicious.
Like Dead Prez once said before they too sold out: Niggaz ain't ready for revolution.
Onward!