The Guardian
(UK)
May 5, 2014.
To ignore what happened to Angolans in the 1970s, in the name of leftwing discipline and unity, is a dangerous betrayal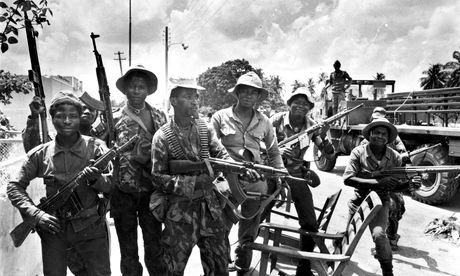 Soldiers of the Popular Movement for the Liberation of Angola in December
1975. 'I was convinced that the MPLA was a radical socialist
movement that epitomised the heroism of African liberation'.
(Photograph: Popperfoto/UPH)
Over the centuries Europeans of various strains have tried to fulfil their fantasies in Africa. I should know because I'm one of them. Not that I have ever nursed urges to convert and conquer, trade and enslave, or paternalise, dominate and discriminate. But when I set off to Angola at the end of the summer of 1998 I was just one of many who had hoped to contribute to a socialist project on the continent.

I was convinced that, at its core, the ruling Popular Movement for the Liberation of Angola (MPLA) was a radical socialist movement that epitomised the heroism of African liberation. I had been inspired by the writings of Basil Davidson and other British Marxists who left me in no doubt about the integrity of the MPLA under Agostinho Neto, the first president of independent Angola. Unlike its CIA-backed rivals – the National Front for the Liberation of Angola, and the National Union for the Total Independence of Angola (Unita), the latter having allied with South Africa's white minority regime for the best part of two decades – I believed that the MPLA had fought for the freedom of all Angolan people regardless of their ethnic origin, place of birth or skin colour.

That said, I also knew that after the fall of the Berlin Wall the MPLA had made a political U-turn. Abandoning Marxism and Leninism, it had adopted a market-driven economics that morphed rapidly into crony capitalism. The power of the one-party state, which had endured since 1975 until flawed elections in 1992, was now concentrated in President José Eduardo dos Santos. Nevertheless, like many on the left my loathing was focused so intensely on Unita that it was easy to view the MPLA as little more than a cold war victim of US foreign policy.

When I arrived in Luanda, the MPLA had long been – and still is – a member of the Socialist International, an organisation that claims to pursue "progressive politics for a fairer world". I remember my pleasure on hearing politicians and other members of the urban elite calling each other camarada (comrade). Even the party rhetoric sounded remarkably similar to that of the revolutionary years of the 1970s. But a few months into my new job, when the country's "fourth war" finally erupted, I could no longer hide from the blindingly obvious: if revolutionary politicians were what I was after, I was at least 20 years too late.

In fact, this was also wrong. I began to discover that the idea of a 1970s MPLA heyday was just as misguided. An Angolan colleague told me about 27 May 1977, the day an MPLA faction rose up against the leadership, and the honeymoon of revolution crashed to a halt. Some called it an attempted coup, but my colleague insisted it was a demonstration that was met with a brutal overreaction.

Whichever story you believe, six senior members of the MPLA were killed that day by supporters of the uprising. In response, President Neto, the politburo and the state media made many highly inflammatory statements that incited extraordinary revenge. In the weeks and months that followed, thousands of people – possibly tens of thousands – were killed. Some of the executions were overseen by Cuban troops sent to Angola by Fidel Castro to repel a South African invasion.

I found this knowledge profoundly challenging. It turned everything I thought I knew on its head, especially when I began to understand that the 1977 purge cemented a culture of fear that has shaped a generation. How, I asked myself, had this appalling event remained so little known outside Angola?
Read the rest
here
.
*****
Comment
: Revolutionary movements like any movement - even religion - is just made up of people and people are fallible and corruptible at the best of times.
I agree with the author that principles are more important than ideological movements. But then again I am not a joiner and have a dim view of people - particularly organized groupings of people - most days.
This is a revealing article and one that begs a greater investigation.
Onward!