June 19, 2014.
Unpublished memoir reveals how a couple at heart of black freedom movement visited Pyongyang on ideological pilgrimage
"Broken wine bottles and hypodermic needles are very effective. Pork chop and chicken bones can even be utilised as weapons," the Black Panther newspaper instructed its readers in 1970. If the tone was familiar to them, the source of inspiration might have seemed less so: "This is 'Juche', relying on what you have, to sustain your resistance," it explained.

The article was testament to an unexpected alliance. On one side was the California-based revolutionary socialist movement, declared by FBI director J Edgar Hoover "the greatest threat to the internal security of the country".

On the other was "hermit kingdom" North Korea, with its ideological tenet of 'juche' or self-reliance; a country which then seemed something of a "Stalinist Switzerland", recalls former Black Panther Kathleen Cleaver, now a law professor at Yale.

The ties between the two are more than a historical curiosity, says Benjamin Young, a contributor to NK News whose Masters research at the State University of New York: the college at Brockport, uncovered surprising details of the relationship.

It is a reminder that North Korea was not always "an economic basket case", as declared by the Obama administration. At the time it appeared to be an east Asian success story, outperforming the South. The alliance also demonstrates the North's long term interest in cultivating high profile international visitors and the Panthers' search for support around the world.

"North Korea at this point was really on a global publicity campaign, even putting adverts in the New York Times and Washington Post promoting juche and peaceful reunification," says Young.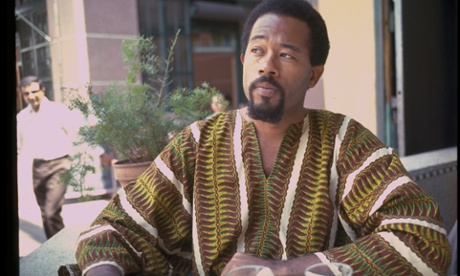 Black Panther Party leader Eldridge Cleaver, in exile.
(Photograph: Lee Lockwood/Time & Life Pictures/Getty Image)
In Eldridge Cleaver, then a leading figure in the party and married to Kathleen Cleaver, they found an eager ally.
Read the rest
here
.
*****
Comment
: I remember meeting
Eldridge Cleaver
just two weeks before he died in 1998.
The meeting took place at a university in Portland, Oregon, where I was a professor of Black Studies and faculty adviser to the student group who brought Cleaver to campus.
Cleaver did not spend too much time talking to me and I was less interested in talking to him. At that point the man had traversed the political spectrum from a being radical black Marxist to an ultra conservative Republican who believed that the US would be saved by a lesbian Jewish president.
While he was on campus he gave a lengthy talk on the relationship between ecology and the coming presidential savior.
When we heard about
his death
it was said that he died somewhere in California.
Onward!
Ps
: See also
"North Korea and the American Left"
by Benjamin Young (Wilson Center) for links to the documents uncovering Eldridge Cleaver's relationship with North Korea.